"While visiting a bead fair looking for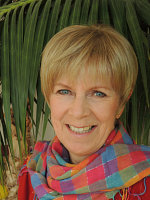 interesting buttons and beads for my knitwear, I stumbled across beads made in polymer clay. I was awestruck by the colours and patterns and I wanted to know more about this 'new' material. It turns out to be a mixture of PVC and coloured particles that harden when baked. I was hooked and since then - although I still have a passion for tassels and braids - polymer clay occupies most of my time at my studio in London".
Carol Blackburn is a designer who works with polymer clay, beads, and tassels. She is an active member of the International IPCA and American Polymer Clay Guilds and studied textiles at Manchester College of Art and the Royal College of Art. She lives in London.
Commissions
"I design and make unique objects in polymer clay but I also undertake special commissions for locations and projects that require individual design solutions, such as interiors, film, and fashion products".
Please contact me if you need more information.